MoonYear Applet
Please enable Java in your browser preferences
You may use the key "y" to increase the year,
or shift key and "y" to decrease the year !
(click into the applet first)
The phases of the moon:
New Moon
local time

waxing
crescent

first
quarter

waxing
gibbous

Full Moon
local time

waning
gibbous

last
quarter

waning
crescent
crescent=less than half, waxing=growing, waning=shrinking, gibbous=greater than half
| | |
| --- | --- |
| | |
| current date | Sunday |
Click the Moon symbol to get the phase at local noon:
The size of the applet frame is 820 x 560 pixel and can be printed on an A4 sheet.
Use the Write... button to open a data window: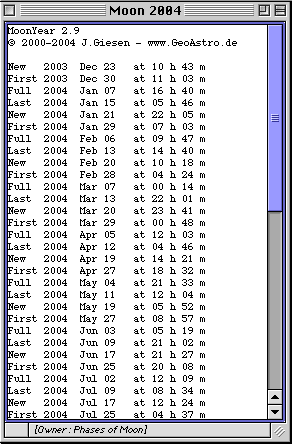 A Blue Moon is the second full moon in a calendar month. Usually months have only one full moon, but occasionally a second one sneaks in. Full moons are separated by 29 days, while most months are 30 or 31 days long; so it is possible to fit two full moons in a single month. This happens every two and a half years, on average.
Details
Please visit my MoonPhase Applet
Please visit my Moon Applet
Visit my page: The Moon: orbit and phases
Last update: 2023, Oct 06